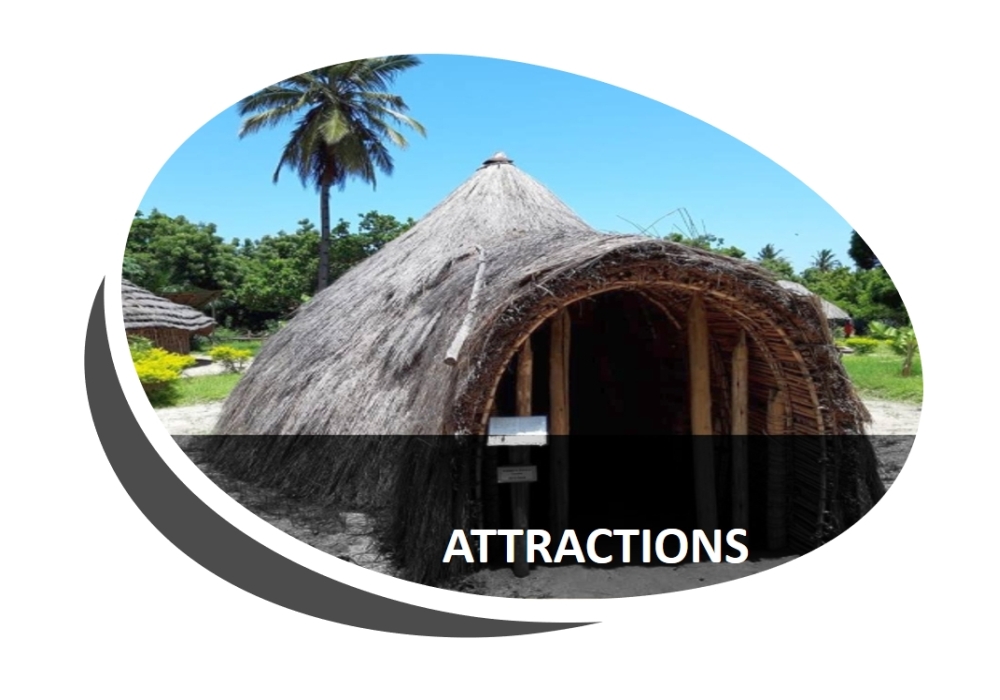 OUR PROPOSALS
"DAR ES SALAAM ATTRACTIONS"

VILLAGE MUSEUM MAKUMBUSHO
It is an open-air museum located in the outskirts of Dar es Salaam which showcases traditional huts from 16 different Tanzanian ethnic groups. There are also examples of traditional cultivations, and traditional music and dance shows are held daily. Each house is furnished with typical items and surrounded by small plots of crops, while 'villagers' demonstrate traditional skills such as weaving, pottery and carving. After visiting museum we'll still use some time to have a lunch and talk about Tanzanian tradition.
TIME: 4 – 5 hours
COST: 30 USD / person
Includes: guide, transfer from a  hotel, lunch + soft drinks
NATIONAL MUSEUM DAR ES SALAAM & BOTANICAL GARDEN 
The Dar es Salaam National Museum is located just next to the botanical gardens. Established in 1934 and open to the public since 1940, it was originally a memorial museum dedicated to King George V; one of the cars of the King is still on display. The museum was expanded in 1963, with the addition of a second building. It is now dedicated to the history of Tanzania. Botalical garden was opened in 1883 by… Germans. It is located jus 250 meters from ocean shore.
TIME: 4 hours
COST: 20 USD
Includes: guide, transfer from a  hotel
TRADITIONAL TANZANIAN EVENING
Do you want to taste traditional Tanzanian food? Listen to real Tanzanian music? We will take you to the dinner among the local community, to the places where the real everyday life of the inhabitants of Dar es Salaam takes place. You will taste the cooked manioc, you will face the "spicy" sauce challenge and you will learn what "ugali" is. And by the way, you will have great fun!
TIME: 3 hours
COST: 30 USD / person
Includes: guide, dinner, drinks (soft or local beer), transfer from / to hotel
NIGHT OUT IN DAR ES SALAAM
Dar is also famous for its colorful and energetic nightlife. If you want to switch to the "party" mode, we are ready for it. We will take you to one of the local clubs where you will learn the taste of Tanzanian fun and Tanzanian drinks. It will definitely be an unforgettable night!
TIME: from 23:00 'till….
COST: 30 USD
Includes: guide, club entry, first drink, transfer from / to hotel
If you have other ideas, or just want us to be with you while visiting Dar es Salaam, we are also available. We will help you find a way, ask local sellers, check how to get a taxi or order a Uber. And in addition, we will entertain you and your friends with a conversation and  a lot of useful information.
COST:
35 USD / 4 hours
50 USD / 8 hours
Cost does not include transfers between points of interest
Regardless of whether you decide to stay in our apartment, or choose any hotel, we will arrange pickup from the airport, deliver you to the indicated place, help you to buy and install a local SIM card and support you in the first moments of your stay in Tanzania. So that you can start enjoying your holidays from the very first minute!
COST:
35 USD / one way max. 3 person
10 USD / person above 3
Includes: guide, transfer from or to a hotel, asistance with local SIM installation and purchase, assistance with hotel check-in